From Draft NOtices, November-December 2000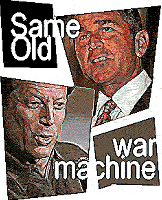 — Molly Morgan
    
"Why of course the people don't want war. Why should some poor slob on a farm want to risk his life in a war when the best he can get out of it is to come back to his farm in one piece? . . . it is the leaders of the country who determine the policy and it is always a simple matter to drag the people along, whether it is a democracy, or a fascist dictatorship, or a parliament, or a communist dictatorship… All you have to do is to tell them they are being attacked and denounce the pacifists for lack of patriotism and exposing the country to danger. It works the same in any country."

— Hermann Goering (Hitler's deputy, convicted of war crimes at Nuremberg)

Goering's understanding of how the system of militarism works would have made him an unsurprised observer of this year's presidential election. In the long list of similarities between major party candidates George W. Bush and Al Gore, we find no choice for voters on military spending: both men advocate more for the Pentagon. In fact, any historical differences between Democrat and Republican military platforms are rapidly disappearing as the candidates try to outdo each other in their eagerness to please their military-industrial complex campaign contributors.