From Draft NOtices, July-August 2000


Orange Glen H.S. backs down on its counter-recruitment ad ban after getting letter from COMD's attorney.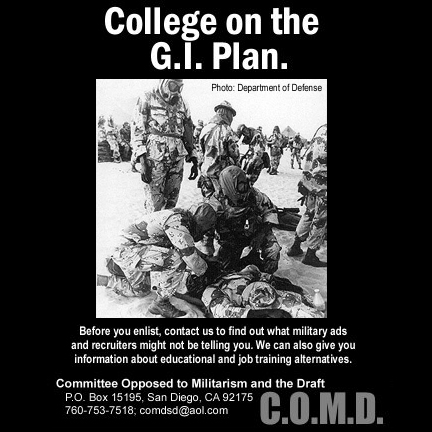 With only one issue of the student newspaper left in the school year, the Orange Glen High School administration apparently decided it could not defend an earlier decision to reject a counter-recruitment ad submitted by COMD (see May-June 2000 issue of Draft NOtices).

The ad, sponsored by Orange Glen alumni Gary Ghirardi and Michael Boone, was submitted to the school newspaper staff in February. It was similar in theme to dozens of other ads COMD had placed in high school papers over the last 18 years. In the center was a photo of an injured soldier being helped on a battlefield, and above it was the headline: "College on the G.I. Plan." The rest of the text said: "Before you enlist, contact us to find out what military ads and recruiters might not be telling you. We can also give you information about educational and job training alternatives." Rather than allow the students to decide whether to accept this ad, the journalism advisor and school administration intervened and sent COMD a rejection letter. Attached was a copy of a school district policy that prohibits schools from distributing "materials" that promote any particular commercial, religious or political interest. Another part of the policy prohibits "advertisements which are inconsistent with school objectives or do not reasonably relate to the educational purpose of school-sponsored publications."