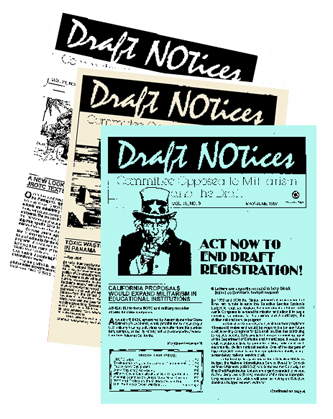 Articles include news and analysis on topics like:
Racism, sexism and homophobia in the military

Key legislation

Military recruiting and Jr. ROTC

Grassroots organizing against militarism in schools

Conscription and draft registration

Military spending

War and the environment

U.S. military intervention
Sample articles are posted each issue on our web site. Complete issues of the newsletter are available only by mail.


Articles in the October-December 2022 issue of Draft NOtices:
Military Recruiters Increasingly Target Latinx Students

Draft Registration for Women Still Undecided in Congress

Plus more...
Draft NOtices is sent automatically to those who contribute at least $16/year ($8 student/low income) to COMD.
For addresses outside the U.S., the minimum contribution is $20.To receive a full year of Draft NOtices, please use the coupon on the About Us page. For a sample of the printed newsletter, send $2.00 to: COMD, P.O. Box 15195, San Diego, CA 92175

For comments or inquiries about Draft NOtices, contact: comd[at]comdsd.org