From Draft NOtices, April-June 2021
COMD Settles High School Lawsuit
NOTE: The following article appeared in the May-June 1987 issue of Draft NOtices. We are reprinting it now because of its continued relevance to contemporary efforts to counter the presence of military recruiters in schools.
"The subject of. military service is controversial and political in nature." So stated the Federal Ninth Circuit Court of Appeals in a landmark 1986 decision securing the right of peace groups to have access to student newspapers on an equal basis with military recruiters and Selective Service.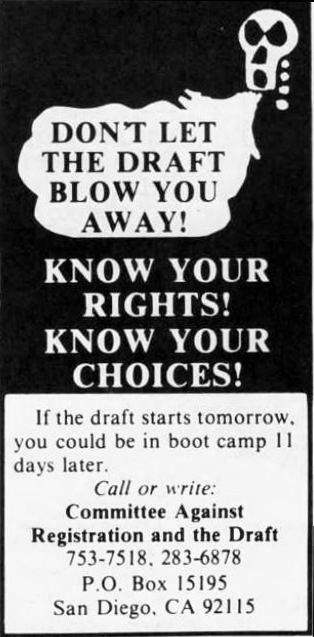 That ruling, won by COMD in its civil rights lawsuit against the Grossmont Union High School District, set the stage for a negotiated settlement with the school district that was made official on April 6, 1987. The comprehensive settlement enforces COMD's right to run ads in all nine of the Grossmont High School District student newspapers. It further requires the district to post copies of the appellate court's decision in its high school journalism classrooms and distribute copies of the decision to district faculty journalism advisors. COMD was also awarded a total of $13,000. The bulk of this sum, $12,000, is going to cover legal costs. $1,000 will go directly to COMD as reimbursement for out-of-pocket expenses tied to the lawsuit, i.e., filing fees, xeroxing, postage, and phone calls. Damages were not requested because it was never intended that any money be received as a result of this lawsuit other than for COMD expenses. This position was adopted by COMD so as not to take money away from vitally needed educational services.
COMD believes the settlement also supports the right of high school student journalists to be free from arbitrary interference by school administrators in deciding the content of their publications. 
The original lawsuit was brought in 1983 by COMD, then called the San Diego Committee Against Registration and the Draft, after the Grossmont District banned COMD's ad from all nine of its student newspapers. The ad encouraged students to know their rights and options regarding draft registration. The school district, however, claimed the ad advocated nonregistration--an illegal act. Student journalists who had wanted to run the ad were prevented from doing so.