From Draft NOtices, October-December 2016

— Isidro Ortiz, Ph.D.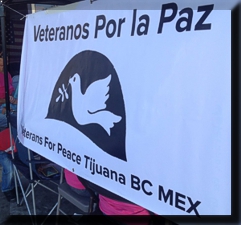 "Support our troops" has been a popular slogan in many circles. As observers like Noam Chomsky have noted, it has been an effective public relations slogan in support of militarism even though it has little meaning and distracts from a critical focus on policies that lead to U.S. American men and women fighting in the Middle East and other regions of the world.

Recently, thousands of former soldiers have discovered that a better slogan to describe their experiences might be "deport our troops," for they have been deported after serving in the U.S. military. Their experiences are the focus of a report titled "Discharged, Then Discarded: How U.S. Veterans are Banished by the Country they Swore to Protect," which is based on an investigation by the American Civil Liberties Union (ACLU) of California. The catalyst for the study was Hector Barajas, who is a deported veteran and director of the Deported Veterans Support House (also called the "Bunker") in Tijuana, Mexico. In the spring of 2015 Barajas contacted the ACLU of California to explore whether the ACLU "could provide legal and policy support on two priority issues:
    Immigration relief for deported veterans seeking to return to the United States and, by extension, reform to stop the deportation of veterans; and
    Assistance obtaining medical benefits owed to them by the U.S. Department of Veterans Affairs, but difficult to obtain outside of the United States."


In its report the ACLU identifies the trends and patterns in veteran deportation, addresses the needs of the deported veterans, and offers "policy solutions to end the disgraceful practice of deporting veterans." Among its findings were the following: the federal government "failed to provide clear and accurate information about naturalization" resulting in "many veterans believing their military service automatically made them United States citizens." The government also "lost, misplaced, or failed to file the applications of many veterans who applied for naturalization."

In addition, the ACLU found that "U.S. Immigration and Customs (ICE) fails to exercise discretion when pursuing deportation proceedings against veterans, despite a 2004 memo explicitly urging the agency to do just that." Moreover, deportations "have denied veterans medical care they would receive in the United States, leaving many to die or suffer without treatment." Also, "veterans deported to Mexico or Central America face serious threats from gangs and drug cartels."

Drawing on interviews with deported veterans, the ACLU offers recommendations for Congress, the White House and federal immigration policy agencies. The ACLU calls on Congress to "provide publicly funded legal representation for veterans in immigration removal proceedings" and to end mandatory detention for Lawful Permanent Residents, including military veterans.

An unprecedented work, the ACLU's report merits reading. Hopefully, its findings and recommendations will be taken seriously by policy makers at all levels and move us beyond parroting the vacuous "support our troops" slogan and catalyze the end of deportations of those who have honorably served our country.
The report may be accessed at: https://www.aclusandiego.org/wp-content uploads/2016/07/dischargedthendiscarded-ACLUofCA.pdf
This article is from Draft NOtices, the newsletter of the Committee Opposed to Militarism and the Draft (http://www.comdsd.org/).