From Draft NOtices, April-June 2023
- Rick Jahnkow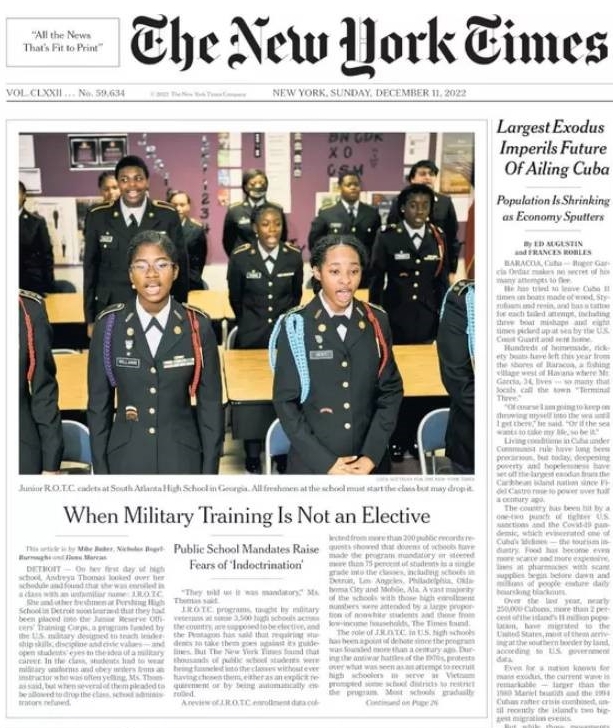 For the first time in decades, the military's high school Junior Reserve Officers' Training Corps has become the subject of a national debate, the impetus for which has been a series of critical articles on the program published by the New York Times in July and December of 2022.
 The Times investigations brought to light a large number of sexual assault complaints lodged against JROTC instructors, as well as the existence of misleading content on historical events in the textbooks. Furthermore, an article on the front page of the December 2022 Times revealed that thousands of students were being involuntarily enrolled in the program at high schools around the country, particularly at schools where students are disproportionately youth of color.
 Not only did the various articles stimulate widespread national media coverage of the issue, they also led some members of Congress to call for scrutiny of the program in general and a Congressional demand for the Department of Defense to answer critical questions about JROTC oversight. One such demand, issued on February 1, 2023, was signed by U.S. Senators Elizabeth Warren, Mazie K. Hirono, Ron Wyden and Bernard Sanders. 
In January 2023, an ad hoc coalition of organizations was formed to strategize and brainstorm ways to further energize the local and national debate around the issue. Participants in the coalition have included individuals and groups with significant experience organizing against military training in schools. Their goals, thus far, are to conduct research and produce materials for grassroots educational campaigns and seek changes in local and federal policies that would end the practice of placing students involuntarily in JROTC.
Ending involuntary enrollment is an important goal because in places where the practice has been stopped, enrollment has plummeted. In such cases, schools have often been forced to remove the program because they could not recruit enough students to meet the minimum enrollment level required by federal law to maintain JROTC, which is the lesser of 100 students or 10% of the student body.
For more information on the ad hoc coalition, email This email address is being protected from spambots. You need JavaScript enabled to view it..
This article is from Draft NOtices, the newsletter of the Committee Opposed to Militarism and the Draft (http://www.comdsd.org/).