From Draft NOtices, April-June 2023
- Davíd Morales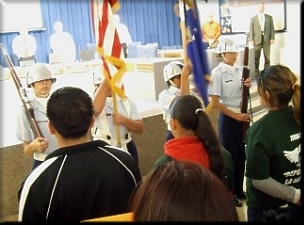 On February 9, 2023, the Project on Youth and Non-Military Opportunities (Project YANO) sent a letter to the trustees of the San Diego Unified School District (SDUSD) calling on them to halt the involuntary enrollment of students in the Junior Reserve Officers' Training Corps Program (JROTC).
  Project YANO felt compelled to write the letter because of a recent New York Times investigation that revealed thousands of high school students were being involuntarily enrolled in JROTC at schools across the country. San Diego Unified was specifically mentioned in the Times report as one of the districts where data suggest that this practice has been occurring, particularly at high schools in which the majority of students are students of color.
 Project YANO's letter follows a similar expression of concern sent to the district by members of the Military Law Task Force of the National Lawyers Guild. In their letter to the district, Task Force attorneys cited section 51750 of the California Education Code, which states:
The governing board of any school district maintaining a secondary school may establish in the school classes in military science and tactics complying with the laws of the United States made and provided with reference to Reserve Officer Training units in educational institutions.
No student enrolled in any such school shall be required to enroll in any course in military science and tactics.
Upon reviewing the JROTC enrollment data obtained from SDUSD by the Times, Project YANO concluded there was a strong indication that 9th- and 10th-grade students at some district schools are being automatically placed in JROTC. Furthermore, Project YANO believes this is being done without first obtaining fully informed consent from the students and their parents, which would constitute a violation of the California Education Code. In the letter sent to the trustees of SDUSD, Project YANO called on the district to take the following steps to address the issue:
● Immediately initiate a review of current school practices for enrolling students in military science (i.e., JROTC) courses.
● Act through board policy to halt any current and future auto-enrollment of students in JROTC.
● Develop protocols and a standard consent form that would provide students and parents with enough factual information about the program to ensure that fully informed consent has been given prior to a student's enrollment in the program.
● Present an annual report on JROTC enrollment data broken down by school and grade level.
● Cease the common practice of district schools choosing JROTC as a default substitute for state-mandated physical education courses, and ensure that school sites are provided with the necessary resources for all students to take PE if they desire or require the course.
In Project YANO's view, the involuntary enrollment of students in JROTC, particularly students of color, is a predatory tactic used to steer historically marginalized student populations into the military. Although the military continues to assert that JROTC is not a recruitment program, studies have shown that forty percent of students who graduate from the JROTC program enter the military (Pema & Mehay, 2010; Pema & Mehay, 2012).
In addition to Project YANO's letter sent on February 9, the Association of Raza Educators (ARE) in San Diego and the San Diego Chicano/Latino Concilio on Higher Education also sent letters to the district demanding that action be taken to prevent the involuntary enrollment of students in JROTC. Furthermore, Project YANO has made an effort to reach individual San Diego Unified trustees regarding this matter. As of March 27, there had been no official response from the school district.
While making plans to attend the February 28 school board meeting to address the issue of involuntary enrollment of students in JROTC, Project YANO learned of a proposal to approve a new Coast Guard JROTC unit at Mission Bay High School. The contract between Mission Bay High School and Coast Guard was set to be voted on at the February 28 school board meeting. One ARE and two Project YANO representatives signed up to provide remote public commentary (via Zoom) on this proposal, which was merged with other topics under a single consent agenda item. Their plan was to oppose its approval based on serious defects with the contract. All three representatives were skipped over and denied the opportunity to share their comments during the school board meeting, and the contract was approved with no discussion. After follow-up contacts were made with San Diego Unified Board Services, personnel there blamed this silencing on a technical issue.
Project YANO is disappointed by the lack of response so far from the district, and the approval of a new JROTC unit at Mission Bay High School is especially disturbing since the issue of involuntary JROTC enrollment has not been resolved. Ironically, forced enrollment was raised as an issue in 2007 when a JROTC unit was first introduced at the school. It became a catalyst for student activism that led to a campaign that, at least temporarily, stopped the practice. The campaign also succeeded in permanently eliminating JROTC shooting ranges at 11 district schools. A few years later, JROTC was completely disbanded at Mission Bay High due to low enrollment numbers.
The return of JROTC to Mission Bay High is a sign of how pervasive militarism is in our educational system and society as a whole. It also drives home the importance of having organizations like Project YANO around to confront it when it takes the shape of predatory recruiting and in-school military indoctrination programs.
This article is from Draft NOtices, the newsletter of the Committee Opposed to Militarism and the Draft (http://www.comdsd.org/).