From Draft NOtices, April - June 2008

—Shelley Gutiérrez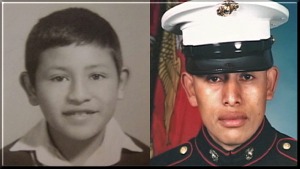 "The Short Life of José Antonio Gutierrez" is a 2006 documentary that begins with Gutierrez's birth in the highlands of Guatemala during its civil war and ends with his death as a soldier in the U.S. invasion of Iraq. The film opens with an anti-war memorial, in which a staged cemetery is erected next to images of the fallen soldiers. The camera focuses on José's picture, silently sending the message that he, like all the others, has a life story that cannot be captured by a single photograph among thousands. The film taps into many social issues facing immigrant communities, which is necessary for viewers to truly understand the significance of U.S. recruitment of non-citizens. While Gutierrez's life seems unique, part of what the documentary exposes is how far-reaching are the effects of U.S. foreign policy and military recruitment policies.

One strength of the film is that it reveals how José was clearly a very special and even heroic individual. Born during Guatemala's 36-year civil war, in which more than 200,000 indigenous people were killed, Gutierrez became an orphan at age nine, living largely on the streets of Antigua. Through all accounts, Gutierrez was a witty, motivated, and caring child who lived a rough life going back and forth between the streets and Casa Alianza, a shelter that took in street children. When Gutierrez decided there was no future for him in Guatemala, he made the decision to emigrate to the U.S., where he moved into foster care and completed high school. He then joined the military to fund a college education that he hoped would allow him to fulfill his life-long dream of becoming an architect. Unfortunately, as the film details, his aspirations where cut short in the opening days of the war in Iraq.


His death in March of 2003 received extensive media coverage, in part because he was the first U.S. casualty of the war, but also because his death meant that the first fallen soldier was not a U.S. citizen. While now their numbers are even larger, at that time there were 36,000 green card soldiers (4% of all troops). Due to supposed security risks, non-citizens cannot move up in rank and thus remain in the most dangerous occupations. As such, Gutierrez's death was not an anomaly. In fact, non-citizens constituted eight of the first 71 U.S. casualties, four of the first seven prisoners of war, and five of the first ten Californians killed.

As the news media focused on Gutierrez's life story and the details of how posthumous citizenship should be awarded, it worked within the dominant narrative structure of the loyal immigrant who joined the military to give thanks to the country that took him in, essentially representing his life in a vacuum until he arrived in the U.S. While Gutierrez and other green card soldiers' deaths in Iraq created an opportunity for more discussion about the composition of U.S. troops and the treatment that immigrants face in the United States, much of the media depictions painted Gutierrez and the others in a patriotic light. The New York Times and other newspapers reported that his foster mother in the U.S. said José wanted little more than to become a U.S. citizen. The subtext of these media reports was that Gutierrez was a "good immigrant," a faithful one who loved the country enough to give his life for it. But this gross misrepresentation of Gutierrez's life only reinforces the discriminatory treatment immigrants receive and makes it easier to engage in abusive recruitment policies.

German documentary filmmaker Heidi Specogna recognized the significance of Gutierrez's life story. Though only able to tell a very limited version of the tale (since it is based on second-hand information, interviews, photographs, and scant amounts of his personal writing), Specogna pokes holes in the official narrative of his death. By giving a nuanced perspective of his hopes and dreams, she presents a limited critique of U.S. recruitment of non-citizens by tracing the lives of Guatemalans who were orphaned during the civil war and showing immigrants' dangerous trek to the U.S. Although this film does not always connect the dots between Gutierrez's difficult life journey and his death from U.S. foreign policy, the film does mention the CIA's involvement in the decimation of the indigenous population during the civil war, which ultimately led to Gutierrez becoming an orphan. As a victim of "friendly fire," his experience with the military came full circle and led to an ironic situation in which, as the film narrator Ciara Pentney states, Gutierrez is "born in one war and dies in another."

Besides showing the devastation of the war in Guatemala, the film highlights the plight of Guatemalans. It does so, however, without giving much attention to how the civil war, in and of itself, was one factor triggering emigration. Nonetheless, the film traces the difficult journey Central Americans make to the U.S., often contending with robberies, police, rape, and dangerous conditions while traveling aboard trains through Mexico. Throughout the film, we see many others who struggle like José as orphans, immigrants, or soldiers.

This background helps the viewer see that the story is more tragic than could possibly be conjured up by fiction. The film shows what many young people go through and demonstrates how unfair it is that they are robbed of their potential by militarism. Gutierrez joined the military after George Bush signed an executive order in 2002 that shortened the waiting period for green card soldiers to apply for citizenship. While the film states that Gutierrez told his sergeant and foster mother that he joined the military out of patriotism, many other sources depicted in the film contradicted this. Regardless of his intention, the film successfully demonstrates how the policies and practices that encourage the enlistment of non-citizens are unfair and reveals not ambivalence toward Latino immigrants but abuse.

This article is from Draft NOtices, the newsletter of the Committee Opposed to Militarism and the Draft (http://www.comdsd.org)