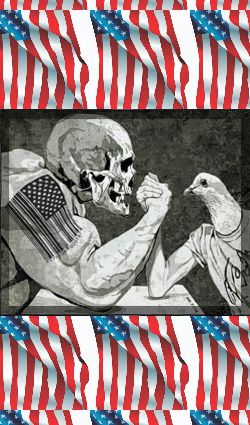 Countering the military in high schools: Read about COMD's successful lawsuit here.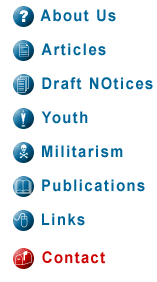 Graphic:
"One-armed Bandit" by Mr. Fish
From Draft NOtices,
October-December 2017
"Remember Pearl Harbor" and Forget All Else
How a cult of American militarism continues to mobilize our society toward warmongering and imperialism.
— Pete Doktor
As a so-called Generation X veteran, I have come to understand the iconic and reactionary slogan "Remember Pearl Harbor!" not as simply a generic, nostalgic saying, as much as an American jingle that preaches a general predisposition for self-victimhood, universal distrust, vengefulness and the ceaseless posture of a war hawk in need of routine feeding.-Full Article
________________________________
From "Gung-ho" to "Woke"
— Isidro Ortiz
Anti-militarism is often associated with the Baby Boomer generation. Thus, as the generation begins to pass, it might appear that anti-militarism does not have a future. Missed in such an observation is the emergence of a new crop of activists in generations X and Y. Juan Perez is one of those new activists.-Full Article
________________________________
Feeding the Deportation Pipeline: Caveat Recruitee
— Isidro Ortiz
A previous Draft NOtices article, "Deporting a Few Bad Hombres" (July-September 2017), discussed the deportation of immigrant military veterans. Non-citizen immigrant recruits in the United States now find themselves possibly facing a similarly cruel and irreversible fate. In this case their potential deportation is not due to any criminal actions on their part.-Full Article