From Draft NOtices, April-June 2012

The lesson for their principal: Militarism at school isn't cool!

— Rick Jahnkow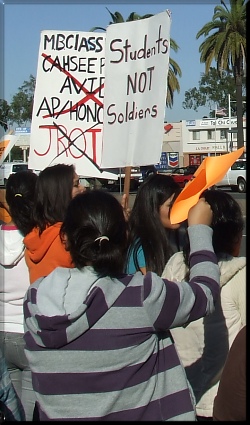 Students at Mission Bay High School in San Diego are now celebrating what amounts to a very rare organizing victory: the expulsion of a Junior Reserve Officers Training Corps unit from their school. The accomplishment is especially remarkable given that it happened in an area with one of the largest concentrations of military personnel and war industry in the world. San Diego County, with over 100,000 active duty sailors and Marines, has a Department of Defense payroll that frequently tops all other regions in the U.S. It's not the sort of place where you would expect a rejection of anything military.

There are more than 3000 high schools in the U.S. with JROTC, the Pentagon's high school military training and indoctrination program. Over the years, those who have objected to having such courses in their schools have learned that when a JROTC unit gets established, it is almost impossible to remove it with a campaign of protest directed at school administrators and governing boards. The reason is that once JROTC is present, the cadets — who are organized in military ranks — can be used as a lobbying force that will intimidate even the most anti-militarist school board. Activists in San Francisco, for example, have failed in multiple attempts to eliminate the program.

This pattern, however, has occasionally been broken. The latest example is at Mission Bay High School in San Diego, where student organizing has now forced the removal of a JROTC unit at the end of the 2011-2012 school year.

The story of this remarkable victory began in the summer of 2007, when Mission Bay principal Cheryl Seelos requested, and received, approval from the San Diego school board for a Marine Corps JROTC unit. Opposition to the program was small at first, but it quickly grew as students and parents learned more about JROTC's military recruiting function and also heard that college readiness classes like AP Spanish and AVID were being reduced or eliminated. These latter subjects were particularly important as routes to higher education for the school's mostly Latino student body. People were also shocked to find out that, despite a zero-tolerance policy on weapons, a shooting range would be built inside the school for marksmanship training. When it was discovered that shooting ranges were already in many other schools with JROTC, students and teachers at other San Diego campuses spoke out, which led to the formation of the Education Not Arms Coalition in late 2007.


Knowing that an appeal to the school board to simply ban JROTC would go nowhere, the coalition focused on eliminating several features of the program that were sure to be regarded as unacceptable by the community: the existence of rifle shooting ranges, the practice of falsely claiming that JROTC would help students qualify for college, and the automatic placement of students in the course, which is a violation of the California state education code. It was also understood by many activists that all of these practices served to boost JROTC enrollment, and thus their elimination was likely to bring down the number of cadets at some schools.

After 18 months of intense organizing, including large protests by students and parents at school board meetings, the coalition had succeeded in all of its goals: the school board had voted to ban marksmanship training and close down the firing ranges in 11 schools, and the superintendent had ordered principals to stop the practice of using involuntary enrollment and deceptive claims about college eligibility to populate JROTC classes.

Following these policy changes, students at Mission Bay HS watched the JROTC attendance at their school steadily shrink, which is significant because federal law stipulates that for a school to maintain a JROTC unit, it must have at least 100 students or 10% of the student body enrolled. Mission Bay's JROTC unit was down to only 58 cadets in its fourth year (2010-2011), yet nothing had been done by the principal or Marine Corps to remove the unit. In May 2011, a group of students, former students and parents signed a letter to the principal calling his attention to the requirements of federal law and military regulations governing JROTC. They demanded to know the following:

    1. Was the MCJROTC unit at MBHS placed on probation in 2009-2010, as required by the program? If not, what is the reason?

    2. Were steps taken to disestablish the MCJROTC unit and physically terminate it, as required by the program, no later than the end of the current (2010-2011) school year? If not, what is the reason and when will disestablishment take place?

The principal responded with a letter on May 31 praising the program and stating that it had not been placed on probation or scheduled for disestablishment. His only concession was to say: "We were notified that probation may be considered if enrollment did not increase by the end of the 2011-2012 school year."

Dissatisfied with this, the students and parents responded with another letter, a copy of which was sent to the school board president and district administrators. It argued that according to federal law and Marine Corps and Department of Defense regulations, the JROTC unit should have already been disbanded, and the failure to do so was especially egregious given that the school district was making severe cuts in teaching personnel to meet a serious budget shortfall, while still employing two full-time JROTC instructors at Mission Bay HS for only 58 cadets. The final paragraph stated:
    The JROTC program at MBHS is already out of compliance with the requirements of federal law and, for that reason alone, should be disestablished as soon as possible. We believe the staffing allotment that would then be freed should be used to help cushion against any cuts that might be made in other classes urgently needed at the school.
No further reply was received from the principal or school district. However, during the last week of school, cadets were observed actively trying to talk students into putting their names on a list indicating their intention to join JROTC in the fall of 2011. Given the desperation the cadets displayed, JROTC opponents speculated that in the first week of the 2011-2012 school year, more pressure would be placed on students to add JROTC to their schedule, and some might even be involuntarily assigned the course. To counter this, students created and distributed hundreds of bilingual leaflets during the first 10 days of school, informing their peers that they could not be required, under any circumstances, to take JROTC. They also made a plan to distribute hundreds of "Students Not Soldiers" and "Yo No Soy El Army" (I Am Not the Army) buttons.

By the third week of school, it was learned that the official enrollment records were showing a total of only 40 students in JROTC at Mission Bay HS. Efforts to increase the number had not only failed, but enrollment was lower than the pervious year! Before the first semester was over, the principal privately told some of the activist students that JROTC would be discontinued at the end of the school year. The decision was then made public when he announced to the cadets that they would have to transfer to a different school next year if they wanted to continue in JROTC.

Organizing in the district is now focusing on learning whether JROTC units at other schools are also under-enrolled, and to what extent enrollment is being elevated by placing students in the course automatically. The Education Not Arms Coalition is asking the district for an investigation and for stricter enforcement of the involuntary placement ban. Work is also being done to educate individual school board members on the higher cost of maintaining JROTC versus other classes, with the hope that the program will finally be given at least equal treatment when new budget cuts are made.

In the meantime, much has been learned about how to weaken what has seemingly been an invincible intrusion of militarism in our schools. One of the lessons learned is that expectations must be geared toward a multi-year process. Another is that while a public campaign demanding complete removal of JROTC does not work, it is feasible to mobilize opposition to limited aspects of it that are hard for its supporters to defend and are responsible for propping up JROTC enrollment numbers. In following this approach, it is critical to educate people about the injustice of denying students, especially those from low-income families, the resources they need to pursue choices other than the military.

But the most important factor in the success at Mission Bay HS was the students themselves, who persevered even when their principal and others tried to silence and intimidate them. They were encouraged and aided by non-students who leafleted at school entrances and gave other support, but the most significant work was done over a long period inside. Through peer education, the students were able to reverse the "coolness" equation so that rejecting the lure of JROTC became more legitimate than joining it. Once that happened, a de facto boycott of the program ensued that made it impossible to sustain JROTC.

For more background on the JROTC campaign in San Diego, visit http://www.projectyano.org/educationnotarms

This article is from Draft NOtices, the newsletter of the Committee Opposed to Militarism and the Draft (http://www.comdsd.org/)