From Draft NOtices, October-December 2018

— Rocío Cordova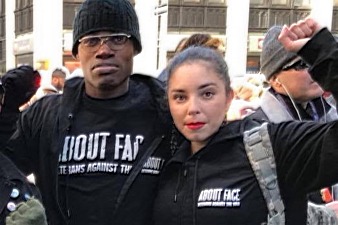 The motto for the U.S. Army Reserve's Psychological Operations Command is "Persuade. Change. Influence," which is exactly what Captain Brittany DeBarros aims to do — only, instead, her messaging is in complete opposition to the U.S. military industrial complex.

DeBarros, who is a member of About Face: Veterans Against the War, gained viral recognition when she took to her Twitter account in early July to expose the numerous ways in which the U.S. military spends its resources to inflict violence and murder upon innocent civilians, particularly in the Middle East. Prior to that, she delivered an emotionally-charged speech at the Poor People's Campaign rally in Washington, D.C., where she proudly identified herself as a multi-racial queer woman. It is these intersecting identities and lived experiences as a combat veteran that have awakened her to the realization that "there can be no true economic, racial, gender liberation without addressing the militarism that is strangling the morality and empathy out of our society."

Comrades at About Face have begun a fundraiser to cover legal support after it was revealed that the military had opened an investigation targeting DeBarros. To learn more updates about the case and contribute to the fund, visit https://www.gofundme.com/fund-war-resister-cpt-debarros.

This article is from Draft NOtices, the newsletter of the Committee Opposed to Militarism and the Draft (http://www.comdsd.org/).