Isidro D. Ortiz, Ph.D.

Hits: 4401
From Draft NOtices, April-June 2020
The Resistance Continues: Building on the Legacy of the 1970 Chicano Anti-war Moratorium
 — Isidro D. Ortiz, Ph.D.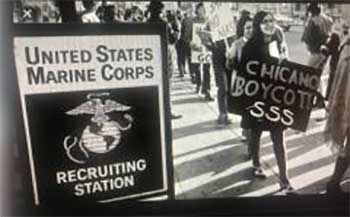 On August 29, 1970, the sounds of "¡Raza Sí, Guerra No!," and "Chale, No we Won't Go!" thundered across East Los Angeles as an estimated 30,000 Chicana/os marched to protest the war in Vietnam. The march was one of the events of the Chicano Moratorium (CM). Organized and spearheaded by the National Chicano Moratorium Committee, the CM was the capstone in the Chicano anti-war movement that surged in 1969 and 1970 throughout Aztlán, the mythical Chicano homeland.


Today the Moratorium still stands as the largest protest against the war in Vietnam by Chicanos. In some circles, it has achieved "iconic" status. A catalyst to the emergence of the movement were the findings of a study by political scientist Ralph Guzman. His research revealed that Chicanos were experiencing disproportionate casualties in the war in Vietnam, suffering twenty percent of the casualties at a time when they comprised only ten percent of the population of the Southwestern United States and when oppression and inequality were parts of the everyday experience of Chicanos, especially Chicano youth. In the public schools, for example, Chicano students were marginalized via segregation in the schools and tracking into vocational courses and away from curricula that would prepare them for college, feeding a school-to-military pipeline. They were also subjected to punishment for speaking Spanish and denied proper counseling services. Consequently, by 1970 the dropout rate, or as Chicano activists called it "the pushout rate," hovered around fifty-five percent in East Los Angeles and elsewhere. And, like other draft-eligible youth, many were ensnared in the web of the draft and faced the prospect of death in Vietnam.