Susan Van Haitsma

Hits: 1612
From Draft NOtices, January - March 2016

— Susan Van Haitsma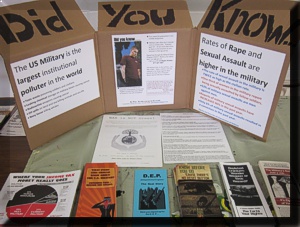 In October 2015, the school board of the Austin Independent School District approved a policy doubling down on restrictions to military recruiter access. Our Austin truth-in-recruiting group, Sustainable Options for Youth (SOY), had successfully worked with our district in coalition with a student group in 2005-2006 for some recruiter restrictions and equal access for nonmilitary alternatives. In subsequent years, three local recruiters were charged in a series of serious abuses that led SOY to pursue a stronger policy. In a strange twist, this might not have happened had not one of the implicated recruiters contacted us.

The e-mail message arrived out of the blue in May 2014 from a former Marine Corps recruiter who had been charged in the sexual assault of a local 16-year-old high school student three years prior. He wrote to ask us to remove the newspaper story about it from our blog site, claiming that the charges had been "proven to be false and dismissed."  He wrote that he was still in the Marines and that the story was making it hard for his family "to move forward."  We had seen no follow-up in the press after the disturbing report had been published in November 2011, but we'd assumed that he'd been convicted of the crime. I shared the Marine's message with our school district's attorney to ask if he knew the status of the case. He replied that he didn't know and suggested that I look up the records at the county courthouse.

The Marine wasn't the only recruiter charged that year in the sexual assault of a student he had met at an Austin high school. In April 2011, an Army recruiter had been arrested after complaints from several prospective recruits led to the revelation that a local 17-year-old high school student had reported that the recruiter had sexually assaulted her in her home in September 2009. She had told his commander, but the commander had not notified the police, so the recruiter had been allowed to continue recruiting in Austin schools for another year and a half until his arrest. A full investigation was promised, but, again, we had seen no follow-up in the press. After receiving the Marine's e-mail message, I wondered about this Army assault case. Had it been prosecuted?


Read more: Sexual Assaults Lead to Tighter Recruiting Restrictions in Austin Schools