From Draft NOtices, April-June 2016

— Kathy Barker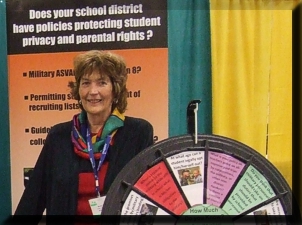 As many counter-recruitment groups do, Washington Truth in Recruiting (WaTiR) has participated in dozens of tabling events. Usually these are local, and we are invited because of contacts we have made within the schools or peace communities. School career fairs, state PTA meetings, local school counselor meetings, National Lawyers Guild meetings, LBGT meetings, church meetings, Democratic State conventions, antiwar meetings -- we table and present anywhere we can, sometimes through the invitation of allies.

We eventually thought it would be interesting to table at places where we weren't invited, at some of the state or national conventions of "educational influencers." So in lieu of gaining entrance through invitations, we spent money to become exhibitors at meetings and conventions. We targeted education-related, in-state conventions to minimize travel expenses, and we found conventions with exhibitors by web searches or by asking teachers and counselors what meetings they thought were worthwhile.

Still, we sometimes couldn't get a table at a convention because someone on a committee thought we were too anti-military. More often, the calm and formidable Marion Ward (shown in picture) would work to persuade the booking committees that we would add to the convention by offering help in navigating the legal commitments for the No Child Left Behind Act. Marion was so effective that she sometimes got a discount better than the non-profit rate offered.

And it was a good thing she did. Donations were more frequent during the overt Iraq war, and conventions are expensive -- the price for a table at a state convention runs around $1000, with more for a corner location. Typically, that money buys a 6-foot table, two chairs, and a backdrop behind you.